McKeon Group is proud to announce that we have officially reached 100 employees and what a brilliant team we have! We held an event to mark this special milestone and give our annual update to all of our team last week.
Throughout the last 72 years, we have grown from one man with a van to five brilliant divisions, bursting with ideas, expertise, and world-class staff. We have worked on sites all across Ireland, from third-level education, commercial, pharmaceutical and countless other clients. Our ability to provide the right team across a variety of sectors has grown and adapted, as have we, putting McKeon Group in a prime position to tackle some World class projects.
This year to date, we have finished 271 projects and have a further 104 projects ongoing.
Speaking at the event, CEO Tomas Mac Eoin said: "Refreshing our core values has been on the agenda for a while, we've changed a lot as an organisation over the past 10 years, the workforce has changed, society has changed and our strategy has changed. I certainly felt the language needed an updating and the way we present and talk about them."
"The Values originated from our grandfather and some of them have remained unchanged, that of Integrity & Quality. We turned to the family and as mentioned integrity, how we treat our staff and how we are perceived in the industry were paramount. Then we had an overwhelming sense of responsibility towards sustainability and that we must go above and beyond to change our impact on the environment and also influence others.
We then turned to the entire organisation to understand the personal values of each individual and if they aligned with our organisation's core values. Really to ascertain if indeed we held them true, communicated them, lived by them and believed them. We asked the question …."
What values or traits of your own do you feel are matched in your role at McKeon Group and Hereworks?
"The response was overwhelming, we got 52 individual responses in a 2-day period, which is probably one of the most successful surveys we've carried out in recent times, which only goes to show how important values are to the team.
I was very humbled by what came back, the positivity, the warmth and the passion in some of the replies…."
Updated Core Values:
We are proud to reveal our refreshed core values, illustrating the key points that we feel encapsulate our organisation best.
They are Integrity,  Client Commitment, Quality, Brilliance, and Sustainability. While to some they may appear as buzzwords, to us, they are the very fibre of our operations and how we communicate ourselves to the world.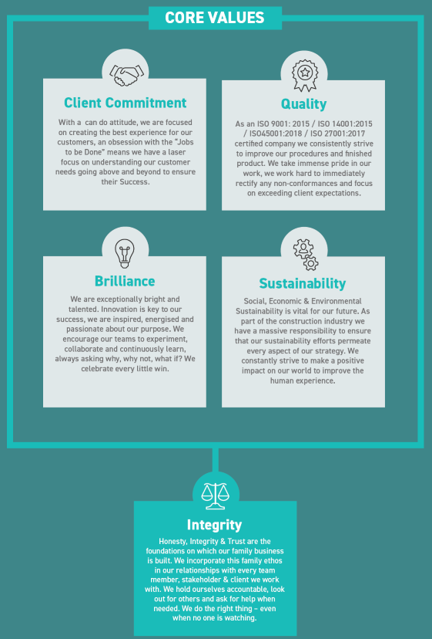 Going forward, we will have a renewed focus on Sustainability and will be bringing in a consultant from outside of the company to assist us with this. In the company-wide survey, a large number of our team called for an increased focus on sustainability and this is something we plan to deliver.
McKeon Group has grown drastically over the past three decades, showing a growth of a staggering 900% since 1990. Even more impressively is that between 2016 and 2022, we doubled our workforce from 50 to 100 staff.
Our QEHS Director, Cliona Molloy, said: "I had a look back and between 1990 – 2006 we grew from 10 – 24 employees. Over the next 10 years to 2016 we doubled that to 50 and from then to now in the last 6 years we have doubled again to 100 Employees."
Our growth would not be possible without every single person we deal with, including our clients, sub-contractors and our hard-working staff.
Let's see what the next decade has in store!
If you want to be part of our team check out our open positions and grow with us!