DkIT Site Visit: Construction Excellence & Perpetual Curiosity
25/03/2022
At McKeon Group, we are passionate about introducing the next generation of construction talent to the industry. As a third generation business, we understand the importance of harnessing all that 'people potential' to innovate and create change. In fact, earlier this month, we took a group of primary school children on a site visit to expose them to a working construction site – and to a possible future career in the industry! You can read more about that site visit here https://mckeon.ie/removing-barriers-and-normalising-diversity-is-everyones-business/.
It is equally rewarding when we get the opportunity to meet with third level students who have already chosen a career in the industry. Here, we can share the realities of project life, both on and off site. 
Last week, McKeon Group directors Clíona Molloy and Paddy Cassidy met with DKIT School of Engineering's class of 2022. The engineering class included the future graduates in construction management, civil engineering, building surveying, and architectural technologists. Firstly, let us just say that the future of the industry is in good hands. It was great to see such high levels of enthusiasm and genuine curiosity from the students. Clíona and Paddy spoke to the class about day-to-day life in construction; the range of projects, the exciting challenges, and the sense of achievement when high quality projects are handed over to satisfied clients. They also counselled the eager students on the importance of their networks, starting with their classmates, lecturers, tutors, and of course visiting industry professionals! One of the most important takeaways from the session was the need for continuous learning and continuous upskilling; a shorthand for this might be telling the students to prepare for a lifetime of taking action on perpetual curiosity…
After the presentation, our directors took the students on a tour of the North Building STEM development, where McKeon Group is currently working to deliver a significant extension. (Further project details available at: https://mckeon.ie/project-update-1300sqm-extension-at-dundalk-institute-of-technology/ )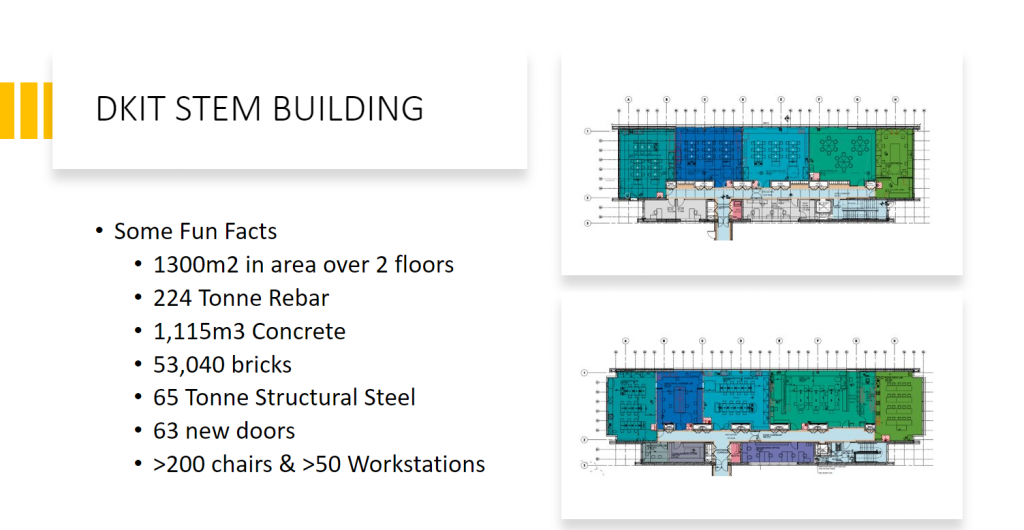 Exposing third level students to such 'real world' projects affords them a meaningful opportunity to explore the job as well as the discipline. This reinforces the fundamental principles and brings to life much of the theory they learn through their coursework. It also gives our team greater insight into new graduates, and with this deeper level of understanding, we can tailor our recruitment and training approach to appeal to the next generation of industry talent. 
Always teaching, always learning – every day in construction is a school day.
About McKeon Group: Established in 1950, this year marks the 70th anniversary of McKeon Group, which remains a family business. ISO certified for more than two decades, McKeon Group offers expert construction, fitout and building services. The Group delivers projects, services and maintenance across a range of sectors for State, local authority, FDI and private clients. For more information, contact https://mckeon.ie