Project Update: DCU Lonsdale Science Building
18/08/2020
Since the industry re-opened non-essential construction sites and resumed projects back in mid-May, there has certainly been a period of adjusting to the new pandemic-responsive safety measures on site. The McKeon Group site teams were aided by the in-house development of the Good2Go compliance app, which is now available to the wider industry for use. You can find out more here: https://mckeon.ie/about-us/good2go-app/ 
Over the past two months, the electrical division has commenced three relatively large projects, each of which offer an exciting challenge for our team of engineers, contracts managers and electricians. Full consideration has been given to ensure full life cycle selection of all luminaires and electrical accessories for each project.  
These projects are as follows: 
~ Full strip out and Cat. B fit out of Office and teaching space alongside our Mechanical Team in DCU
~ Retrofitting of over 2,500 LED Luminaires to DCU Science Building thus further reducing their energy use
~ Fire alarm and Emergency Lighting upgrade to Primary School in Dublin 7
We look forward to delivering each of these projects to the same high standards that our existing clients have come to expect from McKeon Group. 
Project Update: DCU Lonsdale Science Building
The DCU Lonsdale lighting is an energy upgrade, which is particularly relevant for all buildings right now as we prepare for a return to schools, colleges and workplaces. Our work here involves retrofitting over 2,500 LED Luminaires within the DCU Science Building in order to reduce the overall energy use.  Of course, there are many other benefits, some of which can be seen in the 'before' and 'after' images below.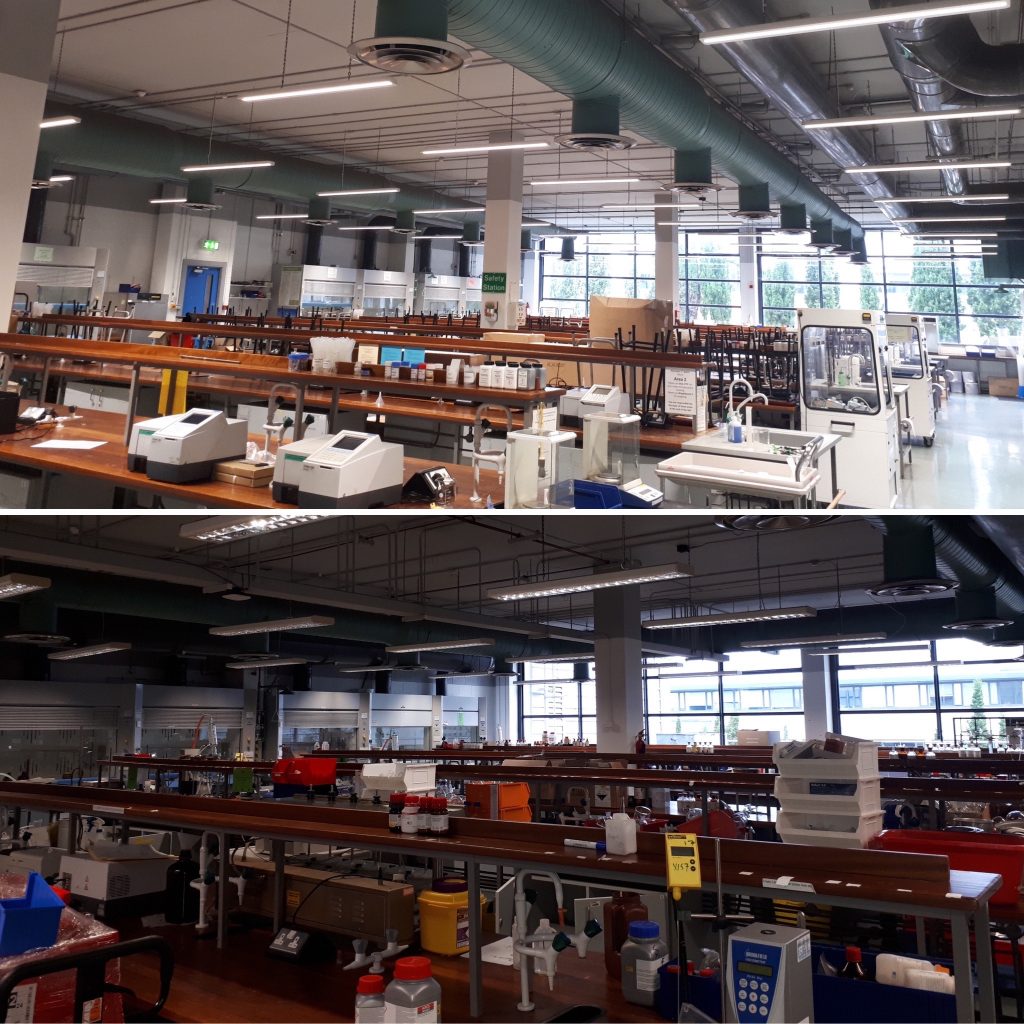 This work is being carried out under the SEAI Better Energy Grant scheme. Working closely alongside the client and design team, material procurement was given the due consideration it requires ensuring high quality equipment  meeting within budget has been selected going beyond the industry standard to ensure consideration for full life cycle. 
This project is one of many that have been conducted across DCU Campuses furthering their energy reduction initiative. McKeon Group is delighted to have been chosen once again by DCU to complete these works to the high standard that we offer time and time again.
About McKeon Group:
Established in 1950, this year marks the 70th anniversary of McKeon Group, which remains a family business. ISO certified for more than two decades, McKeon Group offers expert construction, fitout and building services. The Group delivers projects, services and maintenance across a range of sectors for State, local authority, FDI and private clients. For more information, contact: www.mckeon.ie