Fit Out Awards 2020: Finalist
04/11/2020
Fit Out Project of the Year – Retail
The team at McKeon Group are delighted to be named amongst the selected finalists in the Fit Out Awards 2020 for our retail project at Dublin's iconic Royal Hibernian Way.  You can read more about this project here: https://mckeon.ie/project-detail/royal-hibernian-way/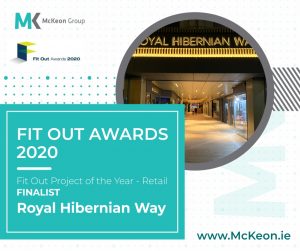 Launched in 2012, the annual Fit Out Awards recognise and celebrate excellence in this specialist sector. Ireland-based fit out teams have earned a reputation for world-class delivery and not even the pandemic can dampen our enthusiasm for the celebration – albeit a virtual one! In previous years, the Awards Gala events have been social highlights for the industry, whereas this year's event on November 25th will take place exclusively online, with leading business broadcaster Richard Curran hosting. This digital ceremony promises to be a fun and interactive event, with award winners engaging in live interviews on the night.
Like every other industry, in almost every other country across the world, 2020 has been a uniquely challenging year. There has been a shared sense of facing these challenges together and embracing new HSE/CIF safety protocols to keep sites open and to keep project momentum going. We can truly say there has never been a more important time for the industry to celebrate; to celebrate great projects, top standards of excellence and, of course, top class colleagues.  The past nine months brought out the best in the industry, reaffirming our well-earned reputation for resilience and ingenuity.  We look forward to celebrating this on 25th!
Best of luck to all of our industry peers shortlisted in the https://www.fitoutawards.ie 2020, particularly those peers nominated alongside McKeon Group's Royal Hibernian Way project in the Retail category:
~  Allcare Pharmacy, Merrion Shopping Centre
~  Chadwicks Drogheda
~  Chadwicks Gorey
~  Cloud 9 Furniture
~  Junction 14 Mayfield
 Best of luck to all involved!
About McKeon Group:
Established in 1950, this year marks the 70th anniversary of McKeon Group, which remains a family business. ISO certified for more than two decades, McKeon Group offers expert construction, fitout and building services. The Group delivers projects, services and maintenance across a range of sectors for State, local authority, FDI and private clients. For more information, contact McKeon.ie www.mckeon.ie