McKeon Group: Brú na Bóinne Visitors Centre at Newgrange
30/10/2020
McKeon Group Brings State of the Art Heating to Ancient Ireland  
In a manner of speaking!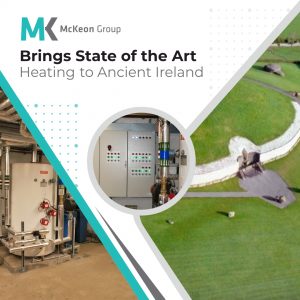 Brú na Bóinne Visitors' Centre at Newgrange 
While 2020 marks the 70th year of operation for McKeon Group (and you can read about our celebratory community initiative here),  October this year marks a decade since the establishment of the Mechanical Division.  Coinciding with the division's 10th anniversary, the McKeon Group team were  delighted to hand over a prestigious project at Brú na Bóinne Visitors' Centre Newgrange, carried out on behalf of the Office of Public Works.
This visitors' centre in Newgrange is a multimedia interpretative centre for the World Heritage designated ancient burial tombs site of Newgrange, Knowth and Dowth. As a multi-purpose building with large, open exhibition and viewing spaces, including a souvenir shop, eatery and offices, the building needed an upgrade to its heating and control system to enhance the visitor experience and to ensure maximum year-round comfort for both visitors and staff.  
McKeon Group mechanical division were selected to provide a state of the art boilerhouse upgrade with a new building management system to control the comfort levels within the space.  The project works included a full strip out of existing LPHW heat generation and distribution equipment serving all areas of the visitor centre and the installation of a new system including the following (photo gallery below):
~ Boilers & Flues
~ Primary, secondary pipework & Valves
~ Plate Heat Exchanger 1200kW
~ Circulating Pumps and Pressurisation equipment
~ Building Management System with a new front end PC and graphics tailored to suit the various zones within the visitor's centre
~ Gas Detection and emergency isolation system
~ Gas Pipework Installation
~ Domestic Hot Water Calorifier, complete with anti-legionella pumping arrangement
Installation of numerous temperature sensors throughout the exhibition and circulation spaces of this complex building has provided the facility with the means to closely control the temperatures in various zones throughout the building, helping to provide visitors to this iconic site with the best experience of ancient Ireland.
Despite COVID -19 restrictions and the project start being delayed by a nest full of fledgling robins, who just happened to build their nest in the boiler house door, the project was completed and commissioned to the satisfaction of the Office of Public Works on programme and within budget!
About McKeon Group
Established in 1950, this year marks the 70th anniversary of McKeon Group, which remains a family business. ISO certified for more than two decades, McKeon Group offers expert construction, fitout and building services. The Group delivers projects, services and maintenance across a range of sectors for State, local authority, FDI and private clients. For more information, contact: www.mckeon.ie