Understanding the role of building ventilation in curbing the spread of COVID-19 in 2021
05/01/2021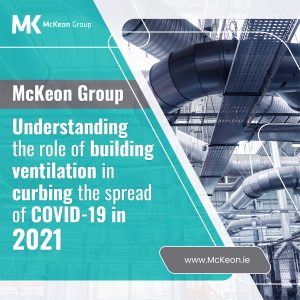 Ordinarily, our first post of the New Year would be a jovial affair, with greetings shared and hints given of the plans and ambitions of the business over the coming 12 months. But these are no ordinary times. Ireland is struggling to cope with a powerful third wave of Covid-19 infections, with a record number of new cases reported by the Department of Health this week. Despite positive news of the impending availability of vaccines, it is a chilling start to the New Year. In terms of infection rates, Ireland has gone from being the best country in Europe six weeks ago, to one of worst today.  At the time of writing this, all non-essential construction is to cease this evening (January 8th, 2021) until at least the end of the month, as part of restrictions introduced last Wednesday to slow the spread of the virus (full RTE report available here: https://www.rte.ie/news/business/2021/0108/1188412-construction-sector-to-close/). 
Already in our third lockdown, non-essential businesses have been ordered to close their doors, with even greater numbers of employees working from home. As construction contractors and specialist contractors, the team at McKeon Group have been working on pandemic-responsive building solutions over the past 10 months. Working closely with our clients, our immediate priority is to ensure the safety of workplaces. This has involved rethinking previously established energy-saving methods employed in heating, ventilation and air conditioning systems, particularly in relation to air recirculation, heat recovery, thermal wheels in AHUs and the provision of the minimum fresh air requirements that would ordinarily apply. While much is still unknown, aerosol transmission is widely accepted. Proximity to asymptomatic infected people, duration of the exposure and the quality of the air are the key factors in determining spread, which is 20 times more likely indoors rather than outdoors. For this reason, improved building ventilation will likely help to control the spread of the virus indoors. 
As documented here previously, the Chartered Institute of Building Services Engineers (CIBSE) is now recommending increased rates of direct fresh air supply and exhaust ventilation. Recirculated air systems and transfer of air from one occupied space to another should be avoided where possible. In practical terms, this means running ventilation systems at a higher volume rate than would ordinarily be necessary, and central ventilation systems with recirculation mixing boxes should be set to full fresh air and full exhaust to avoid any possibility of contaminants being recirculated into the space. Also, the use of recirculation fan coil units and split-type air conditioning units is to be discouraged unless there is an adequate source of fresh air, mechanical or natural, to the space.
Further information can be found in the CIBSE Covid-19 Ventilation Guidance: https://go.cibse.org/l/698403/2020-07-15/2n3qmd/698403/87225/CIBSE_Covid_Ventilation_Guidance_version_3_FINAL.pdf
McKeon Group Mechanical Services Director, Jim Wheatley, recently explored the impact of pandemic-responsive solutions in the context of the industry's sustainability goals in an article titled 'COVID-19 Preventative Measures vs. Energy Conservation in Office Buildings', you can read the full article here: https://mckeon.ie/covid-19-preventative-measures-vs-energy-conservation-in-office-buildings/ 
Also, the HSE/HPSC Guidance on Non-Healthcare Building Ventilation during COVID-19 document is available in full here: https://www.hpsc.ie/a-z/respiratory/coronavirus/novelcoronavirus/guidance/religioussettingsguidance/Guidance%20on%20non%20HCbuilding%20ventilation%20during%20COVID-19.pdf
About McKeon Group
Established in 1950 and ISO certified for more than two decades, McKeon Group offers expert construction, fitout and building services. The family-run Group delivers projects, services and maintenance across a range of sectors for State, local authority, FDI and private clients. For more information, contact: www.mckeon.ie