COVID-19 Preventative Measures vs. Energy Conservation in Office Buildings
02/10/2020
~ By Jim Wheatley, Mechanical Services Director at McKeon Group
As professionals in the commercial mechanical services industry, our focus year-on-year has been energy efficiency, carbon footprint reduction and constantly reducing the financial and resource cost of human comfort in our built environment.
Then 2020 came along and everything got COVID-flipped.  Offices and company headquarters that are built and serviced for large numbers of people, are now only partially occupied with lots of the former occupants working remotely from home.  Staff members still working in the buildings are widely spaced around the building to ensure physical distancing is achieved.  
This is the worst possible scenario for energy conservation, as the entire premises still needs to be heated or cooled due to the spread of staff around the building for physical distancing reasons.  Centrally designed heating, ventilation and AC systems are not flexible enough in their functionality and control to be targeted at the person rather than the space, especially in office buildings that have large open plan areas.  As we head into the winter heating season, staff comfort costs and energy usage per office-based employee will have doubled or tripled this year due to COVID-19 restrictions.
Additionally, COVID-19 has forced a rethink on the established energy-saving methods employed in ventilation and air conditioning systems such as air recirculation, heat recovery, thermal wheels in AHUs and the provision of the minimum fresh air requirements for human comfort in normal circumstances.  The Chartered Institute of Building Services Engineers (CIBSE) is now advocating increased rates of direct fresh air supply and exhaust ventilation.  Recirculated air systems and transfer of air from one occupied space to another should be avoided where possible.
Some key actions recommended in the CIBSE Covid-19 Ventilation Guide (July 2020) are:
(1.)  Run ventilation systems at a higher volume flow rate. 
(2.) Avoid recirculation/transfer of air from one room to another unless this is the only way of providing adequately high ventilation to all occupied rooms.
(3.)  Thermal wheels, used for heat recovery in air handling units, should generally be switched off for the duration of the pandemic, to avoid possible contaminants passing from the extract air into the supply air stream.
(4.)  Central ventilation systems with recirculation mixing boxes should be set to full fresh air and full exhaust, by adjusting the dampers to avoid any possibility of contaminants being recirculated into the occupied space.
(5.) The use of recirculation fan coil units and split-type air conditioning units is to be discouraged unless there is an adequate source of fresh air, mechanical or natural, to the space.
Further information can be found in the CIBSE Covid-19 Ventilation Guidance: https://go.cibse.org/l/698403/2020-07-15/2n3qmd/698403/87225/CIBSE_Covid_Ventilation_Guidance_version_3_FINAL.pdf
Building and facilities managers will already be aware that these actions and the reduced occupancy levels will seriously impact on the budget for human comfort in their premises.  In many cases, recirculation fan coils and AC units are the only source of heating and cooling in the space.  
What is the building services manager to do in this instance?  Will he or she have to recommend closing large sections of the building because COVID-19 was not on the mind of the engineers at design stage?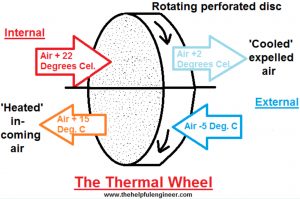 If we take the advice to the full extent, some office buildings are entirely unsuitable for occupancy in the winter during this pandemic, unless new heating systems are hurriedly installed to replace the recirculation air systems in place.  This is not going to happen, and the costs would be prohibitive and unsustainable for companies.  'Act in haste and repent at your leisure' is the phrase that comes to mind in this instance.
The challenge for business owners, company boards, facility managers, designers and installers is to make changes slowly and adopt a wait and see approach as to how this pandemic will run.  They will need to continue with work practices where reduced numbers of staff are office-based and actively manage workspaces to provide minimum comfort levels to mitigate against the higher cost of heating all this fresh cold winter air.  
The winter of 2020/21 will bring challenges to companies in terms of productivity, HR and staffing issues and a significantly higher cost in staff comfort levels.  While the COVID-19 pandemic is with us, it looks like the hot topics of recent years, such as carbon footprint and energy conservation in the built environment may have to take a back seat.   
If we look globally at these issues, the scale of what is happening is jaw-dropping.  As the northern hemisphere moves into the heating season with an increased fresh air requirement, the southern hemisphere nations are moving into the peak cooling season with recirculation type air conditioning systems being singled out as possible spreaders of airborne pathogens.  Planet earth is likely to see a huge increase in carbon emissions over the coming months as businesses in the developed nations struggle to maintain comfort levels in workspaces, while adhering to COVID-19 protocols.
About McKeon Group
Established in 1950, this year marks the 70th anniversary of McKeon Group, which remains a family business. ISO certified for more than two decades, McKeon Group offers expert construction, fitout and building services. The Group delivers projects, services and maintenance across a range of sectors for State, local authority, FDI and private clients. For more information, contact: www.mckeon.ie