McKeon Group was originally established back in 1950 under the name McKeon Construction by Tom McKeon. Back then, as one man and his van, Tom began providing construction and maintenance services to many of our current clients in and around Ashbourne. From making bricks to crafting his own hand tools, Tom was an innovator whose work ethic and values are reflected in the company today. 
In 1979, Tom's son Tomás and his two brothers, Sean and Gay, registered McKeon Construction as a limited company. They wanted to build on their father's legacy and his unwavering commitment to their clients. Tomás originally worked as a maths teacher but left the job (he always insisted he would never stop teaching), to work alongside his brothers, leading the newly registered company to success. And it was. The company became a multi-million euro construction contractor in the education, residential and commercial sectors. Tomás saw it as his responsibility to forge the pathway to education and continuous upskilling for all those who worked with him. This is an ethos that is an integral part of who we are today. 
In 2011, the mechanical division was founded and McKeon Group, in its current guise, was formed. By that time, McKeon Construction had already developed a technology and electrical division and was well positioned to extend the services available to clients. 
As the business embarked upon its 70th year in the industry, McKeon Group wanted to do something special to mark the achievement. The siblings behind this family-owned business know that – despite being a nationwide operation today – success for a third generation business is not possible without strong community support and loyalty. As an integral part of the success story that is McKeon Group, the local community in Ashbourne was always going to be a big part of celebrating its 70th year as part of the local business community.  
And so, in the spirit of giving back to a community that has given us so much over the generations, McKeon Group, in association with Ashbourne & District Lions Club, is proud to launch Ashbourne Heroes, a community-based initiative to recognise and reward the everyday local heroes. These are people within our community who were outstanding in their generosity of kindness, spirit, time and self. 
2020 has been a tough year for many people; the Covid-19 pandemic has had a huge impact on our lives and on the world in which we live. As Ireland, like much of the world, gets to grips with living alongside the virus, now feels like the right time to publicly thank our friends, family, neighbours and wider community for going that extra mile to be helpful and kind. 
But we need your help…
We are asking everyone in Ashbourne to get involved! If you know someone who regularly goes out of their way to help another person in need, nominate them.
If you feel that there is someone special who ought to be rewarded for their generosity of spirit and for being an Ashbourne community hero, log onto AshbourneHeroes.ie and get nominating.
There are many great prizes to be won, with the top prize being a hotel stay in Ireland to the value of €1,500. Who in your life deserves a break?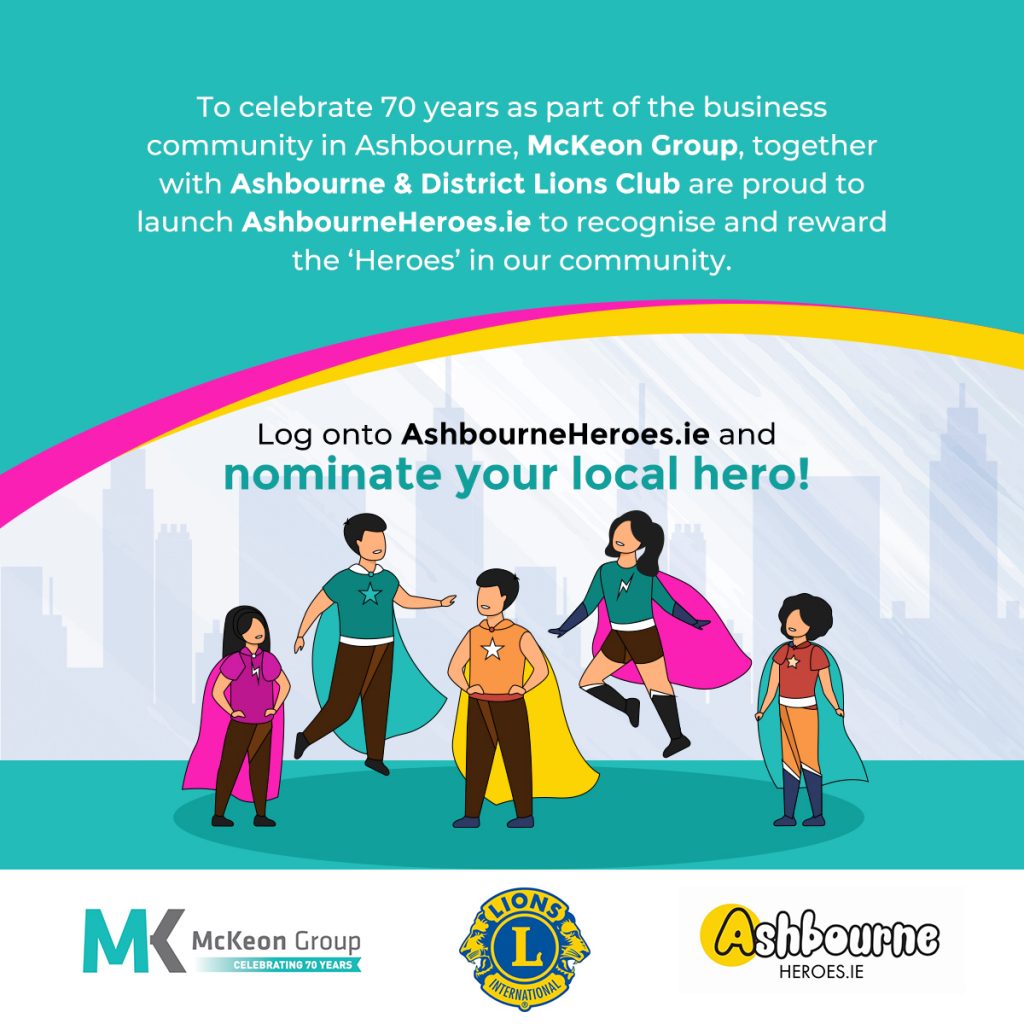 About McKeon Group:
Established in 1950, this year marks the 70th anniversary of McKeon Group, which remains a family business. ISO certified for more than two decades, McKeon Group offers expert construction, fitout and building services. The Group delivers projects, services and maintenance across a range of sectors for State, local authority, FDI and private clients. For more information, contact: www.mckeon.ie