McKeon Group has worked on numerous conservation and restoration projects on heritage sites, ranging from ancient castles to historical libraries.
Ireland boasts some of the oldest architecture in Europe and in order to ensure that these structures continue to stand the test of time, sometimes it is necessary to restore them using modern techniques. These projects often require a different approach to regular refurbishment due to the structural integrity of the building, what its intended purpose is and what regulations surround it. This often means that a specialist will be sought to provide guidance and advice, ensuring that no undue damage occurs to any element.
For example, a building could feature balusters that have been present for more than one hundred years. While they have been weathered and eroded, they are still functional. Therefore, it is possible to restore them without completely removing them, allowing them to be included in the finished product.
Here we take a look at three prestigious projects that we have worked on.
Woodlock Hall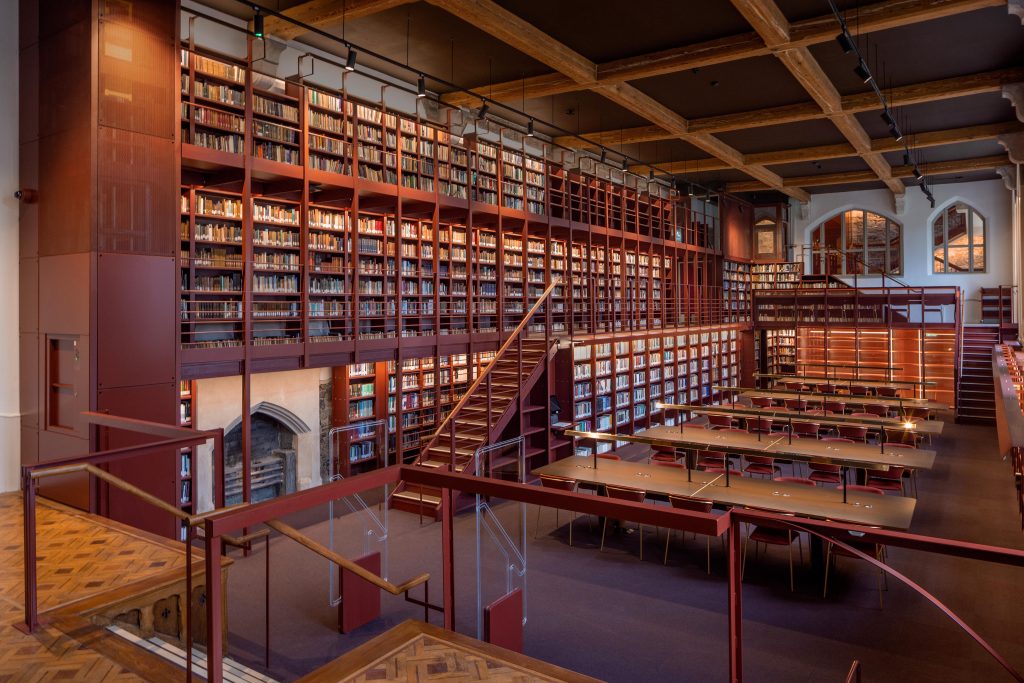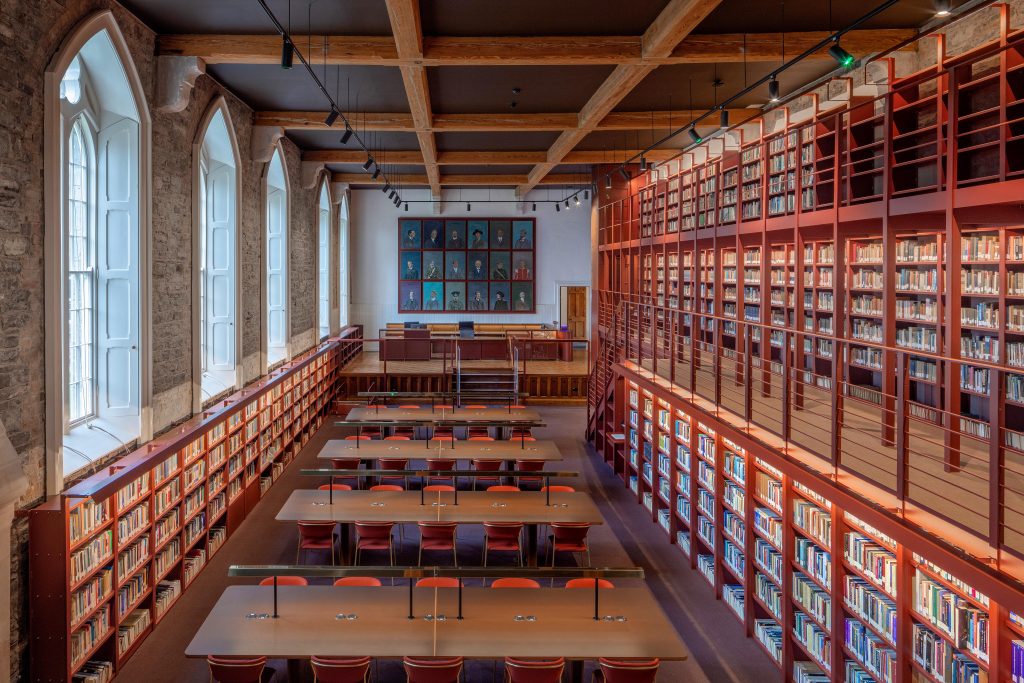 One of these projects involved Woodlock Hall in DCU. The restoration and fit-out of Woodlock Library, a protected structure, was a hugely important project to work on. It took place in the All Hallows campus 18th Century Senior House.
Woodlock Hall has been repurposed as a library across multiple levels inside the confines of the hall. We took special care to ensure minimal points of contact with the building. As a result, this allowed us to maintain as much of the existing structure as possible. The refurbishment also saw the restoration of bespoke features. This included the relaying of historic timber floorboards, the restoration of the original wooden paneling, timber doors, and sash windows. We also installed sustainable energy solutions, including geothermal heating. 
We feel privileged to have worked on this project that has given new life to a historic building. Plans for the restoration of Woodlock Hall began in 2018, coinciding with an agreement between the University and the Irish Jesuits in 2019. Following this, they agreed to transfer the library collection from Milltown Park into the care of DCU Library.
We undertook careful internal deconstruction of the lobby area to the front of the hall to facilitate the installation of a new multi-story lift on each floor. Housed in a glazed facade is a prefabricated metal stair system.
We collaborated with Mullarkey Pedersen Architects for this project and the works were completed in 2020. This project also landed a prestigious AAI Award.
St Patrick's Water Tower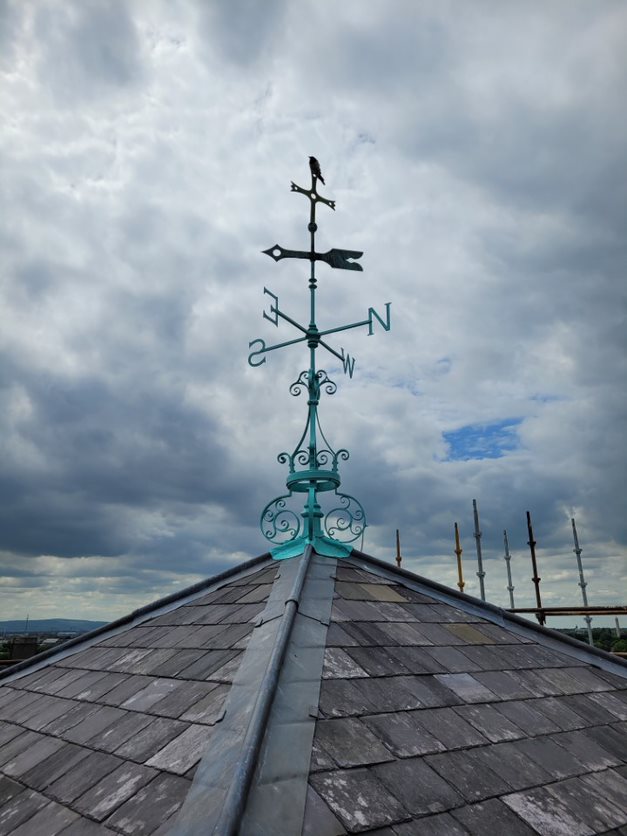 This conservation project required McKeon Group to work closely with specialists Nolan Conservation Group to ensure that all works did not damage the structure.
In order to restore this extraordinary building, we completed a full refurbishment which wrapped up in August 2022.
Since being built in 1890, this was the first full refurbishment carried out. While there had been some maintenance works including the repointing of brickwork, nothing as in-depth as our works had been completed.
This involved raking and repointing brick and stone work on the tower, refurbishing the drainage pipework, guttering and tower windows, and cleaning and repainting the existing ironwork including a spiral staircase, bell yoke, and weathervane.
We also completed the refurbishment and replacement of clay balusters, replaced the slate roof tiles on top of the tower, a full in-depth clean of the inside and outside of the tower, installed lighting pendants, and then installed a new access platform to the tower.
But our work didn't end there as the roof also required a major rework. This included the removal of existing redundant fire escape steel stairs, refilling openings at window locations, installation of missing stone cills, and finally completing a new platform walkway over services.
Ardgillan Castle: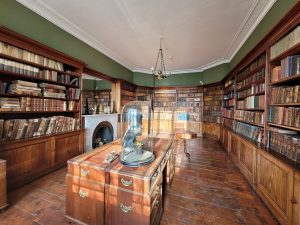 Nestled in the rolling hills of north county Dublin, Ardgillan Castle was built by the Reverend Robert Taylor in 1738. The house remained in the Taylor family until 1962 when the estate was sold to Heir Henrich Potts of Westphalia.
In 1982, the estate was sold to Fingal County Council and with the help of formerly FÁS now Solas, renovated the house. It was officially opened to the public in 1992 by then-president Mary Robinson.
For anyone unfamiliar with this popular visitor attraction, Ardgillan Castle and Demesne sits on close to 200 acres, between Balbriggan and Skerries, overlooking the Irish Sea with views northward to the Mourne Mountains. Described as Ireland's hidden gem, the castle is a family favourite for tours, theater events, parties, and more.
McKeon Group was tasked with the repainting of ceilings and walls, joinery, and radiators on the ground and the first floor. We then completed refurbishment works on timber floors. This project involved carefully dealing with the associated antique furniture and art removals, which we then successfully reinstated.
McKeon Group is on Fingal County Council's conservation restoration framework and have worked on a number of prestigious buildings in the locality, including Malahide Castle.
About Us:
With more than 70 years of experience in the construction industry, McKeon Group are capable of reaching and exceeding the goals of our clients. If you have a conservation or heritage project that you would like us to help with, contact our construction team today.